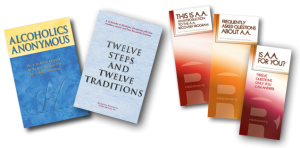 Literature published by A.A. World Services, Inc. is a resource for the recovering alcoholic and for anyone who wants to find out about Alcoholics Anonymous, its history and how it works. General Service Conference-approved literature reflects the group conscience of the Fellowship of A.A. and includes the book Alcoholics Anonymous (affectionately known by members as the Big Book); Daily Reflections, a compilation of spiritual reflections contributed by members; books written by one of A.A.'s co-founders (such as Twelve Steps and Twelve Traditions and As Bill Sees It); and a wide variety of pamphlets and booklets that deal with the Three Legacies of Alcoholics Anonymous: Recovery, Unity and Service. A.A.W.S. publishes literature in three languages, English, Spanish and French, which reflect the three primary languages spoken in the General Service Conference structure of the United States and Canada. They also publish and license translations of the Big Book and other literature in languages and countries around the world, much of which is available in the literature catalog published by A.A. World Services, Inc.
The Montgomery Intergroup Central Office maintains a library of conference-approved literature, literature from the A.A. Grapevine, Inc., and, by group conscience, of chips and medallions to mark milestones in sobriety. The Central Office does not "sell" literature. Rather it uses group purchasing power to order literature at bulk rate, then makes that literature available to groups and individuals for a contribution to replace the literature in the library, including use tax. Unlike many Central Offices, they do not mark up for profit any literature — they are simply self-supporting through the voluntary contributions of those who participate in the repository.
To shop for specific titles and items, use the menu at the right. Simply add the items you want to the cart; when you have finished, check out as on any online store. The Central Office does not offer online payment, but your order will be sent to the office, where it will be pulled together and ready for you to pick up. Your contribution can be brought in cash or check at that time. Groups may also designate a member who is authorized to place orders for the group, and may leave an i.o.u. in the name of the group.
The office is open every Monday, from 10am til 2 pm. To request a pickup time outside of normal office hours, or to request specific titles not currently available, Contact the Central Office.